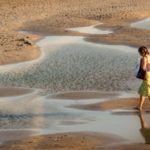 Story and Photos by Lee Daley.
When I think of the perfect Maine getaway, Ogunquit immediately comes to mind. It's all there, breathtaking Maine beauty, surf, sand, rocky coast line and a small artistic village. A destination worth flying to from anywhere in the US and an idyllic day trip from the Boston area, locals often refer to the village of Ogunquit and its beach as a beautiful place by the sea. For good reason. Living there, they appreciate how well the coastal salt air of the Atlantic gently cools the summer sunshine as it brings relief from inland heat waves.
A Park that is a Painting: Topiary Park in Downtown Columbus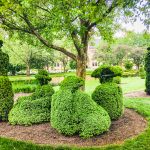 Story and Photos by Lee Daley.
If, like me, you've more than once viewed a painting and wished you could walk right into it, you will find Topiary Park in Downtown Columbus an art lover's dream come true. Ensconced in the shadow of ultra-modern high rises, paths wind through this ethereal space, a sculpted shrubbery rendition of Georges Seurat's famous post-impressionistic painting, A Sunday on the Island of la Grande Jatte. Spread out over five acres, more than seventy life-like topiary sculptures, clipped and shaped into three dimensional figures of couples, children and pets, resemble the figures in Seurat's artwork. Five boats bob in a reedy, reflective pond that stands in for the River Seine. Intended to create the sense of being within the actual "painting," the figures are arranged just like Seurat's painting but created in a new medium. With the painting as inspiration, Topiary Park brings visitors full circle, back into an afternoon in the park.
Brac Island, Croatia: Sun, Sea and Stone.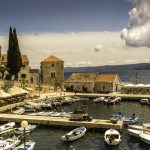 Story and Photos by Lee Daley.
In Croatia, aboard the Katarina Line Futura:  As we watched deckside, our small cruise ship anchored alongside the Dalmatian Coast shore of Brac Island and its Golden Horn Beach, known as one of Europe's most beautiful. Holding just 38 passengers, the Futura's compact size fits into ports large ships can't handle. Our eager group of sunbathers easily disembarked and clambered aboard small boats for the short ride to the coast line's golden sands. Once ashore, my companion and I decided to meander. Sunbathing could come later.
Croatian Islands Cruise in the Adriatic Sea
Story and Photos by John Sundsmo
Croatian Islands Cruise:  "There are more than a thousand Croatian islands in the Adriatic sea" our Katarina Line cruise director told us, "but we only have time to visit Korčula, Hvar and Brac. For more, you have to come back." By the end of our short four night Croatian islands cruise, that is exactly what my wife and I hoped to do – and hopefully soon. Spectacular white clouds filled the sky. Tranquil turquoise ocean water welcomed swimmers. Sparkling sandy beaches lured sun-bathers. Ancient Venetian forts and old cities with narrow cobblestone lanes beckoned walkers. Fine dining, fresh seafood and wonderful Plavac Mali; (Croatian pronunciation- [plǎːʋat͡s mǎli]), red, and Pošip, white, wines tickled and warmed the palate – what's not to like?
Zambia's Mfuwe Lodge: Where Elephants Roam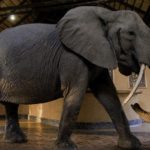 Story by Lee Daley
The local elephants are so friendly at Zambia's Mfuwe Lodge you may find one ambling through the front lobby on her way to a nearby grove of wild mango trees. A favorite of safari enthusiasts, Mfuwe owes its popularity to its magnificent location in South Luangwa National Park,  a wildlife paradise. But its fame among many who visit comes from the informal visits of a local herd of elephants. It seems the mango grove has been a long-time favorite of the herd who see no reason to change their ways just because a lodge was built along their historical route. Camera snap. Jaws drop. Blessed by an elephant visitation, guests leave this first-class resort withan unforgettable memory. It should be added that elephants in the park are very used to human activity and this may contribute to their seemingly complete ease around guests. (https://travelexaminer.net/zambias-mfuwe-lodge-where-elephants-roam/ )
Exploring the Cheshire Ring Canals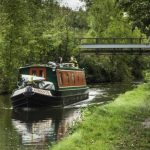 Story and Photos by John Sundsmo
Exploring the Cheshire Ring Canals: "Wheer yo' fro'?" said the man in tweed as he and his spaniel blocked my canal path.  Quickly twisting the words in my mind, I deduced he either properly identified me as a foreigner or he thought I was a local and wondered where I was walking from.  Taking the last first, I answered "Bugsworth Basin."  Now he had me, my California through-the-nose accent was a dead giveaway.  "American are you?"  now in proper English.  "And you are from Lancashire,?"  I said. "Aw'r (I were) but now I live here near Disley."  A chatty half hour later after a wide ranging discussion of politics, the economy and the unseasonably cold hurricane winds crossing the Atlantic from hurricane Ophelia, I was dutifully back on my walk to explore the Cheshire Ring Canals from Bugsworth Basin to the locks at Marple. (https://travelexaminer.net/cheshire-ring-canals/ )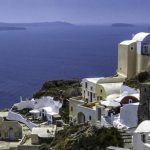 Story and Photos by John Sundsmo
A memorable few years ago my wife and I visited the Greek islands of Santorini and Paros. There we encountered some unique and equally memorable ancient varieties of Greek wines. (https://travelexaminer.net/greek-wines-sonoma/ )
Kauai for Valentine's Day and Beyond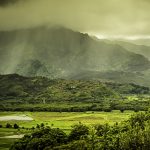 Story by Lee Daley
Escape to Kauai for a Valentine's Day celebration of love. Caressed by warm tropical breezes, idyllic beaches, majestic canyons and cliffs and most of all, an incredibly warm Aloha spirit, Kauai embraces lovers like no other isle. One of my favorite Hawaiian myths tells us when Mother Nature swept over the Pacific Ocean in a burst of hormonal ecstasy more than 500 million years ago, she created that green pearl of love called Kauai and made it into a paradise for lovers. The island is small enough to explore over a long weekend while still leaving space for coveted cuddle time. Locals cherish the beauty and serenity of Kauai. Lovers sense its aura of calm and kindness as it sets the stage for romance, not only on Valentine's Day, but every day of the year. (https://travelexaminer.net/kauai-for-valentines-day/ )
Casanova, The Seduction of Europe opens at the Legion of Honor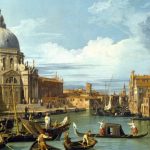 Story by Stephanie Levin
An intellectual, social and artistic enlightenment swept through Europe in the 18th Century that lasted a hundred years. The Legion of Honor in San Francisco, California offers a snippet of that world, taking viewers through the seductive, sensual world of 80 pieces of art through the world of Giacomo Casanova as your guide. (https://travelexaminer.net/casanova-seduction-europe-opens-legion-honor/ )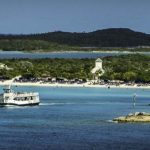 Story and Photos by John Sundsmo
"Welcome to Half Moon Cay population 45, five miles long and 2.5 wide" our Bahamian nature guide said. As she led our small group off the sandy road into the island's dense shady vegetation, we had periodic glimpses of white sand beaches, lagoons and our cruise ship lying offshore. Walking in the balmy warm weather, we knew we'd made the right decision. Opting for a Caribbean cruise vacation before the holidays, my wife and I embarked on a four day cruise from Fort Lauderdale to Nassau on MS Nieuw Amsterdam.(https://travelexaminer.net/christmas-caribbean-cruising/ )
Burgundy Canal aboard European Waterways' La Belle Epoque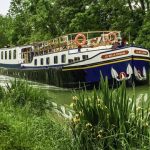 Story by Carol Canter with Photos by Jack Heyman and Carol Canter
La Belle Epoque, European Waterways' six-room floating boutique barge hotel, cruises the Burgundy Canal each week spring to fall between Tanlay and Venarey-les-Laumes. The 12 passengers who sign on will be taking a slow and sensual six-night journey from nowhere to nowhere. They could drive the same distance – 40 miles – in no time, but what illuminating and palate-pleasing experiences would be missed. For a cruise aboard La Belle Epoque is slow travel at its finest, a luxurious opportunity to explore the legendary landscape of Burgundy, France's renowned wine region, as a staff of experts feeds your mind, body and soul. ( https://travelexaminer.net/burgundy-canal/)
Old Harbor Reykjavik and its Maritime Heritage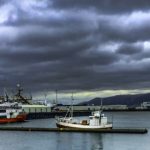 Story and Photos by John Sundsmo
As our plane came in for a landing at Reykjavik Keflavik International Airport on Iceland I looked out over the rocky volcanic landscape onto the unforgiving North Atlantic Ocean. From my reading of Iceland's maritime heritage, I knew Icelanders fished year round. As a sailor I knew that a man overboard in winter had about ten minutes before losing consciousness. Having taken a fair number of risks on the water myself, I wondered what it would take to get me out in January or February aboard a frail wood Icelandic boat. Sitting comfortably in my warm airline seat, I realized only one thing – survival. (https://travelexaminer.net/old-harbor-reykjavik-maritime-heritage/ )