Story and Photos by Lee Daley.
When it comes to year-round activity, Calaveras County, a 2.5-hour drive from anywhere in the San Francisco Bay Area, has it all. Truly a place for all seasons, this is where outdoor activities, wine tasting, fine dining and just plain "fun in the sun" thrive. Here in the Sierra Nevada Foothills, you'll find more ways to unwind than you can shake your bathing suit at. And to unwind any time of day, the county's prize-winning wineries beckon. One thriving community with the unique moniker of Murphys boasts more than two dozen wine tasting venues along its downtown promenade. Take in its art galleries. Attend live theater events. Or stroll through its green community park with its bridge-covered creek and shaded picnic tables. Add in free summertime concerts in the park. Calaveras County beckons.
LIMEWOOD RESTAURANT AND LA CREMA WINERY PRESENT "DATE-NIGHT" WINEMAKER DINNER TO GO
Story by Lee Daley.
Date night Winemaker Dinner to go: Coming soon and not to be missed, Executive Chef, Joseph Paire of Berkeley's Limewood Restaurant, in partnership with La Crema winemaker Craig McAllister, will present an unmatched 4-course wine paired dinner to-go dinner for two on Friday, January 22, 2021. The perfect date-night evening will begin with a 30-minute Zoom session featuring the dynamic duo.
Chardonnay & Croquet at Sonoma Cutrer Winery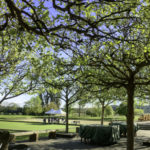 Story by Lee Daley with Photos by John Sundsmo and Lee Daley
Sonoma County is known for its excellent Chardonnay wines and those produced at Sonoma Cutrer Winery are no exception. Tucked away on a lush hillside in Windsor, Sonoma Cutrer may be one of the few places in Sonoma where you can play croquet and indulge in a picnic on beautifully manicured tree-shaded grounds all in the same day
Pacifica: The Beaches Are Only the Beginning
Story and Photos by Lee Daley     I've always known Pacifica's coastline boasts just about the best and most diverse five-mile span of beaches in Northern California. I thought I knew it well. Until I extended my usual day-trip to two nights and three days in this quintessential surfer haven beach town, I had no idea how much I was missing. I soon discovered the beaches are only the beginning.
In Kauai, a bumper crop of food trucks
Story and Photos by Lee Daley.    The Hawaiian island of Kauai serves up cuisine that is both hot and cool. Hot as in haute and cool as in food trucks. Any stay on the Garden Isle offers a cornucopia of dining choices and so, on a recent visit, I went exploring for both haute and cool. My first priority was to find that special food truck, that secret find, where very fine island food could be had for a fair price  As it turned out, I lucked into two that spoke of authenticity and distinct island flavor. For my culinary caper in paradise, I signed up for a food tour with a mom and pop outfit, Tasting Kauai, run by food writer Marta Lane and her photographer hubby, Daniel. The food loving duo host culinary tours throughout the island with an emphasis on local, natural and delicious. Here's my take on the food truck, mom and pop eatery scene, on Kauai's North Shore.  
San Miguel de Allende at Hotel Matilda
Story and Photos by Lee Daley.
For a soul soothing stay in San Miguel de Allende, Hotel Matilda, the "hotel different," is an eye-opener. When you travel to a Mexican colonial city that has been designated a World Heritage Site, you might expect to stay in a well-preserved restored mansion turned hotel. And, in San Miguel, you would have your choice of some of Mexico's finest examples of Baroque and Neoclassical architecture.The city's historic center is filled with buildings from the 17th and 18th centuries, many lovingly restored.
Casa Majani at Punta de Mita, Mexico
Story and Photos by Lee Daley.    Approaching Punta de Mita on a bright fall day, the flawless sky a cerulean blue, I knew I was in for something special. The warm breeze felt like a caress; its clarity etched the curves of the Sierra Madre Mountains creating an epic backdrop to the famed Bay of Banderas and the valley below.
Rave Reviews for Rancho La Puerta's La Cocina Que Canta
Story and Photos by Sephanie Levin.     Snippets of independent, quiet conversations from our little band of hikers erupted as an umbrella of oak trees narrowed to a dirt trail that ascended, descended, twisted and ascended again before leveling out. I had signed on for the pre-dawn two-mile hike up to La Cocina Que Canta, translated as "The Kitchen That Sings," Rancho La Puerta's organic garden and cooking school. I'd never actually hiked anywhere before the sun came up; in fact, I don't like to get up before sunrise, but the opportunity to enjoy breakfast at La Cocina Que Canta with ingredients from the renown organic garden was too irresistible to pass up. As the hike progressed, the serenity, the crunch of our shoes on the dirt, the aroma of sages, salvias and shrubs peaked my senses.
Dinner at Sea with Holland America Line
Lake County: Northern California's Sweet Spot
Story and Photos by Lee Daley     Drive a few hours north of downtown San Francisco and a different world awaits. On a recent weekend getaway, my city stress lessened and lessened, almost in layers, and finally just plain disappeared once my ramble north landed in the land of lakes, aptly named Lake County. With dormant winter chill now giving way to warmer, sunnier days, I found a haven of rolling hillsides and emerald green valleys nestled in the grandeur of mountainsides. Grape vines and trees are just starting to open their buds, lake fishing looks good and goats in the valleys are having their kids.
Brac Island. Croatia: Sun, Sea and Stone
Story and Photos by Lee Daley.  In Croatia, aboard the Katarina Line Futura:  As we watched deckside, our small cruise ship anchored alongside the Dalmatian Coast shore of Brac Island and its Golden Horn Beach, known as one of Europe's most beautiful. Holding just 38 passengers, the Futura's compact size fits into ports large ships can't handle. Our eager group of sunbathers easily disembarked and clambered aboard small boats for the short ride to the coast line's golden sands. Once ashore, my companion and I decided to meander. Sunbathing could come later.    
Rangoon Renaissance: Staying at The Strand
Story and Photos by Lee Daley.     Burma is now on many world travelers' "A" list. With the release of Nobel Prize Laureate Aung San Suu Kyi from house arrest and her subsequent triumphant election campaign, tourism to the country is at an all-time high. Decades of international isolation have left the former British colony's major city, Rangoon, with an enduring colonial charm that has pretty much disappeared elsewhere in Asia.
Burma's Best: The Strand Hotel
Story and Photos by Lee Daley.     Rangoon, Burma's bustling metropolis is like a living museum where traditional tea houses, pagodas and temples sit side by side with grand edifices like the Strand Hotel built during the days of British colonialism. Among these treasures is the 2,500 year old Shwedagon Pagoda considered the most magnificent Buddhist shrine in all of Asia. During the Colonial Era, when Rudyard Kipling sailed up the Yangon River, he wrote of his sighting of the pagoda's golden dome upon the horizon as his vessel neared the city. That glistening stupa still dominates today, both architecturally and symbolically.