Brac Island. Croatia: Sun, Sea and Stone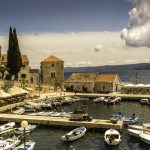 Story and Photos by Lee Daley.  In Croatia, aboard the Katarina Line Futura:  As we watched deckside, our small cruise ship anchored alongside the Dalmatian Coast shore of Brac Island and its Golden Horn Beach, known as one of Europe's most beautiful. Holding just 38 passengers, the Futura's compact size fits into ports large ships can't handle. Our eager group of sunbathers easily disembarked and clambered aboard small boats for the short ride to the coast line's golden sands. Once ashore, my companion and I decided to meander. Sunbathing could come later.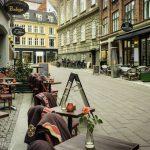 Story and Photos by Lee Daley.     A true Epicurean knows when to save and when to splurge and it's easy to do both in Copenhagen, one of Europe's most elegant cities. By seeking out free and affordable opportunities without sacrificing quality you'll be able to set aside your Danish krone for those indispensable splurges found only in Copenhagen. Based on a recent stay, here are my top suggestions for a boundary pushing visit that won't break the budget.
Copenhagen: In "The Danish Girl's" Footsteps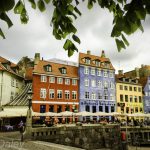 Story and Photos by Lee Daley.     When I sat down to watch the film, "The Danish Girl," I had no idea it would inspire me to travel to Copenhagen where I would walk the cobbled streets and explore the same Old Town waterfront where the film's fated artistic couple lived during the 1920s.
An Island in Time: Santorini, Greece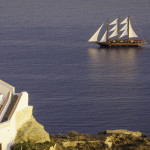 Story and Photos by Lee Daley.     What is it about the Greek island of Santorini that captivates all who visit? It's easy to credit its beauty to the shimmering blue Aegean, the drama of its white washed cube dwellings built atop one another, clinging to the cliff side, some even built cave-like into it. But inexplicably, it's much more than that. One has only to wander for a day along the winding pathway above the caldera in the village of Oia to sense the fundamental union of elements at play.
Amsterdam: Bikes, bridges and bread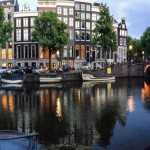 Story and Photos by Lee Daley.     In terms of size, you could tuck all of Amsterdam, a city without skyscrapers, into a corner of Tokyo or Los Angeles and it might pass for a village. But that would be an oversight. Culturally rich, aesthetically beautiful and easily navigable, tiny Amsterdam stands tall among cities of the world.
Budapest's Healing Mineral Baths Mend Mind, Body and Spirit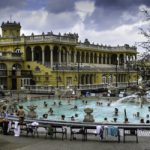 Story and Photos by Lee Daley.    While there are many reasons to visit Hungary, including the fact that right now it is one of the best values in Europe, no visitor should leave the capital city of Budapest without indulging in an extended soak at one of its grand healing mineral bath houses. Sitting on one of the richest geothermal and medicinal water resources in the world, Hungary has been known since Roman times as a great destination for "taking the baths." Several of the city's bath houses neo-Baroque architecture complete with vaulted ceilings and classical murals.
Cyprus: Eco-Tourism in the Land of Aphrodite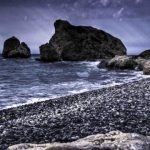 Story and Photos by Lee Daley.     Few places on Earth can hold a candle to Cyprus when it comes to mythic lore. It was here that the goddess of love, beauty and sexuality emerged from the sea in a surge of foam.  Nature and eco-tourists traveling to the rugged Akamas Peninsula on the old road from Lemesos to Pafos are blessed with the sight of Aphrodite's Rock rising out of the indigo waters of the Mediterranean, just off shore from the beach that curls around it.