Brac Island. Croatia: Sun, Sea and Stone
Story and Photos by Lee Daley.  In Croatia, aboard the Katarina Line Futura:  As we watched deckside, our small cruise ship anchored alongside the Dalmatian Coast shore of Brac Island and its Golden Horn Beach, known as one of Europe's most beautiful. Holding just 38 passengers, the Futura's compact size fits into ports large ships can't handle. Our eager group of sunbathers easily disembarked and clambered aboard small boats for the short ride to the coast line's golden sands. Once ashore, my companion and I decided to meander. Sunbathing could come later.
Croatia Island Cruise in the Adriatic Sea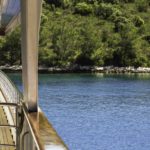 Story and Photos by John Sundsmo.
"
There are more than a thousand Croatian islands in the Adriatic sea
" our
Katarina Line
cruise director told us, "
but we only have time to visit Korčula, Hvar and Brac. For more, you have to come back
." By the end of our short four night cruise, that is exactly what my wife and I hope to do – and hopefully soon. Spectacular white clouds filled the sky. Tranquil turquoise ocean water welcomed swimmers. Sparkling sandy beaches lured sun-bathers. Ancient Venetian forts and old cities with narrow cobblestone lanes beckoned walkers. Fine dining, fresh seafood and wonderful
Plavac Mali
; (Croatian pronunciation-
[plǎːʋat͡s mǎli]
), red, and
Pošip
, white, wines tickled and warmed the palate – what's not to like?
Croatian Wine Tasting in the Dalmatian Islands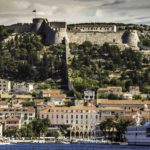 Story and Photos by John Sundsmo.
On a recent Katarina Line cruise of Croatian discovery, we learned that wine makers in the Dalmatian Islands have left an indelible mark on the fine wines produced in California, Australia, New Zealand and Chile. Remarkably, throughout wars, conquest and droughts, the islands of the Adriatic Sea, (East of Italy and South of the Alps), have produced fine wines for 2,500 years. Galleys and sailing ships transported that wine up and down the Mediterranean throughout Greek (500BC) and Roman times well into the 14th century. Greek writer Athenaeus wrote 18 centuries ago about the high quality of Croatian wine especially those coming from the islands of Hvar and Korčula.