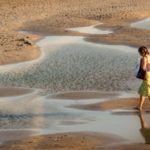 Story and Photos by Lee Daley.
When I think of the perfect Maine getaway, Ogunquit immediately comes to mind. It's all there, breathtaking Maine beauty, surf, sand, rocky coast line and a small artistic village. A destination worth flying to from anywhere in the US and an idyllic day trip from the Boston area, locals often refer to the village of Ogunquit and its beach as a beautiful place by the sea. For good reason. Living there, they appreciate how well the coastal salt air of the Atlantic gently cools the summer sunshine as it brings relief from inland heat waves.
Head "Down East" for Maine Lobster
Story and Photos by Lee Daley.     The expletive, "get crackin,!" takes on new meaning when faced with a Maine lobster. A culinary challenge worth every crunch, consuming the Homerus americanus known more colloquially as the American lobster, is a rewarding hands-on experience. Considered the "King of Seafood", lobsters are harvested along the entire New England coast but Maine is considered "Lobster Central."  Every Maine fishing cove harbors its own distinct clan of fishermen and women who "fence" their traditionally defined territories with brightly painted buoys.
Story and Photos by Lee Daley.   On a recent visit, I explored Boston's culinary scene and came away impressed with the distinctly diverse dining options available in this seacoast city. Along with a memorable meal, I looked for an ambiance that was quirky, artistic or historic, for an added vibe befitting a place that bills itself as the "Athens of America." Each of these four Boston eateries earned high marks for a distinct sense of place.